How important is executive support to your ability to deliver? The answer is: probably even more important than you realize!

Nearly every list of contributing factors to project success or failure has some mention of the importance of executive support or project sponsorship as a key factor.

The idea is that if you have the support of your sponsor (or management chain), you're much more likely to deliver successfully.



Of course that is often easier said than done. Effective project sponsorship is often rare in most organizations, which is why I'm looking forward to you learning from this episode's guest: Alfonso Bucero.
Alfonso is the founder and Managing Director of BUCERO PM Consulting (www.abucero.com), based in Madrid, Spain. Alfonso is a frequent speaker at International PM Congresses and Symposiums and has authored multiple books.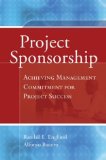 In this episode we talk about insights shared in his recent book (co-authored with Randall L. Englund) entitled Project Sponsorship: Achieving Management Commitment for Project Success (Jossey-Bass Business & Management)
.

You'll get insights into what a sponsor is, why the role is critical to project success, and why sponsors often aren't doing what we need them to do on our projects. In addition, Alfonso will share ideas for engaging your sponsor and, if you are a sponsor, how you can engage with your project managers.

Also, this podcast refers to a special discount for our Horizon Time newsletter and podcast subscribers. You can get $50 USD off our e-learning on managing conflict by using a Coupon Code of ROCK-50OFF. Click here to learn more about our e-learning on managing conflict named Beyond the Rock and the Hard Place: How to Manage Conflict More Effectively.