Nov 30, 2011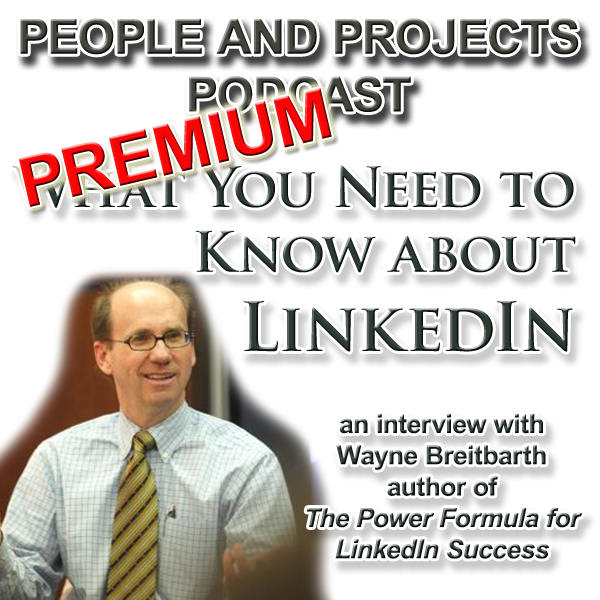 How strategically are you using LinkedIn these days? Or other social networking sites?
From my interactions with people around the world I get widely varying answers. I know many of you are actively engaged with LinkedIn and even Facebook. Yet I run into many people who effectively tell me, "I know, I know.... I really need to be taking this more seriously but I just haven't carved out time."
I trust the interview with Wayne Breitbarth provided an idea or two that can help you take the next step in leveraging LinkedIn for your benefit. Also, make sure you join me for the free LinkedIn webinar on Tuesday, December 20. I'd love to have you in the discussion. Click the Register Now button or use this link: https://i-lead.pgimeet.com/attendee/RegisterLogin.aspx?hubconfID=1192095&qtID=1&act=reg

Based on my discussion with Wayne, here are some points I want to further stress with my premium subscribers:
First, how do you position LinkedIn and other social networking sites in your own mind? Traditionally I thought of them as giant time sinks: sites that would simply eat up more time that I didn't have. And yet I have found, when used strategically, they can be a time saver. But it starts in how you frame them in your mind. Wayne says he thinks of LinkedIn as a people searching tool. That's a reasonable way of thinking it, though that may be more how a business owner, salesperson, or recruiter would think of it. How do I position it in my mind? Bottom-line: It's a relationship building tool. It's a tool that allows me, with a minimum time commitment, to stay in touch with people and to know what's going on in their world. If you've been in any of my project management or leadership sessions you've likely heard me say that the dirty little secret of business is that it's all done on relationship. LinkedIn and other social networking sites allow me to leverage that secret of business. More on that at the end of this premium episode.
Second, it's worth taking a look at your current LinkedIn profile. Is it rather empty? Or is it just an uploaded version of your resume? Is it telling your story the way you really want it crafted to the rest of the world? Your LinkedIn profile is a very public way of managing your personal brand. What's that? Well, more on that at the end of this premium episode!
Third, if you haven't tried some of the applications on LinkedIn, I strongly suggest you check them out. From the Amazon reading list to box.net to Answers to SlideShare, there are many ways you can leverage these applications to give the world a fuller understanding of who you are and the value you can provide. I'll cover some of these applications in the webinar on December 20th.
Special Offer for Premium Subscribers
OK, so here's the offer I've hinted about as we near the end of this premium episode! As a thank you for being a premium subscriber, I am offering you a free license to our Dirty Little Secret of Business e-learning program. The program is filled with ideas on how you can more effectively build and leverage relationships for your success, regardless of the role you are in. Just send me an e-mail at andy@i-leadonline.com for the coupon code to get your free license. And by the way, if you already have gone through that program and would like a license to one of our other offerings, just let me know. Think of this as an early Christmas present as my way of saying Thank You for being a premium subscriber to The People and Projects Podcast.
And Another!
OK, and I'll throw one more freebie in for you as well! If you send me a link to your profile on LinkedIn, I'd be glad to review it and share any suggested changes that I would recommend.
So, premium subscribers, take me up on these free benefits! I look forward to hearing from you!
Please take a moment and stop by our podcast Facebook page! I invite you to Like it and the join the discussion.
Thank you for being a premium subscriber to The People and Projects Podcast. Please let me know what questions you have and if there's anything I can do to help you lead and deliver. Thank you for joining me for this premium episode of The People and Projects Podcast! Have a great week!
Total Duration 4:40

Download the premium episode