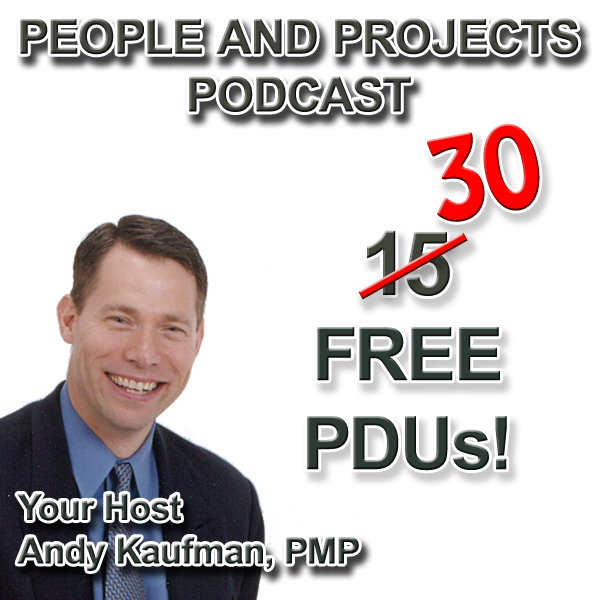 If you're a PMP, you know that getting your 60 PDU's every three years is a requirement. Now it's actually not that difficult to get your 60, especially if you don't wait until the last month to get them!
Did you know that you can rack up free PDU's just listening to The People and Projects Podcast? And the great news is that PMI has recently increased the number of Self-Directed Learning PDU's you can claim in each cycle, from 15 to 30.
Make your life easier and save some money. Earn free PDU's while you listen to each episode of The People and Projects Podcast. Follow this link to find out exactly how to claim your PDUs for this podcast:
http://www.peopleandprojectspodcast.com/index.php/resources-for-project-managers/earn-30-free-pdus.html
By the way, here are a couple additional ideas for getting free or low cost PDU's:
If you work as a project manager at least 6 months out of the year, you can claim 5 Category F PDU's each calendar year.
If you volunteer with your PMI chapter or donate project management services for a community or charitable group, you can claim up Category E PDU's.
You can get Category D PDU's for presenting at a conference or meeting on the topic of project management.
You certainly can take classroom or e-learning courses as well. Our new Essentials of Project Management e-learning workshop is rated at 14 PDU's.
Finally, you may recall an interview I had with Cornelius Fichtner regarding his PDU Podcast. Though these last two options aren't free, they are still a great value for the investment.
There are countless ways to get your required PDU's. If you have any questions, please don't hesitate to contact me.
Thank you for joining us for this episode of The People and Projects Podcast! Have a great week!

Download episode 48