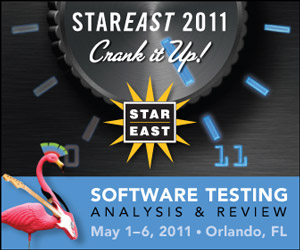 Hey, quick note: This episode is sponsored by the STAREAST 2011 Conference. STAREAST is the premier gathering place for software testers, developers, and managers to interact and learn how to improve software-testing practices. This year's line-up features over 100 learning and networking opportunities.
Come join me for a new keynote at STAREAST this year. It's entitled "How to Win Friends and Influence People--and Deliver Quality Software". Go to http://www.sqe.com/go?SE11Kaufman and use the code AKSE and save up to $400 on registrations prior to March 4, 2011. Come join me at STAREAST! I look forward to seeing you there!
So, let me ask you.... Are you a student of your profession? Conferences are a great way to invest in your learning--it's one way to remain a student. But how else do you make sure you continue to learn? Listening to this podcast is a clear way to keep growing, and each month we have more premium subscribers who get additional content that supplements these episodes with more personalized coaching.
For this episode I wanted to focus on those who are in project management roles or who aspire to be there someday. There are many great resources for being a student of project management. And one of my favorite resources is pmStudent (http://learn.pmstudent.com/dap/a/?a=113). I recently had the opportunity to connect with Josh Nankivel from pmStudent and look forward to sharing that interview with you in this episode.
Make sure to check out pmStudent at http://learn.pmstudent.com/dap/a/?a=113. Josh also mentioned the following sites:
Quick note: This month we're rolling out a new product to help those who are or aspire to be project managers. Our "Essentials of Project Management" workshop is now available in an e-learning format. This engaging new offering simplifies your ability to get expert insights in a stress-free, convenient format. And this month we're offering a special coupon code to get 50% of the normal price for the learning. Just go to http://bit.ly/EssentialsOfPM and use the coupon code ESSENTIALS-50. This offer is good until the end of March 2011.
Thank you for joining us for this episode of The People and Projects Podcast! Have a great week!

Download the episode