Dec 11, 2010
We're now at that time of year when there are often many social gatherings, whether with family, friends, or work associates. Do you look forward to these times of family gatherings and holiday parties? Or do you dread them?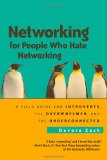 Or how about this: What do you think of when I say the term "networking"? If your first response was TCP/IP or Ethernet, you have even more work than I expected! But kidding aside, when you think of networking in terms of developing relationships, what comes to mind?
Frankly, for many years I knew I should be networking more but I tended to see it as a rather sleazy endeavor--an activity that people did just to get stuff from other people. Yet in a struggling and unpredictable economy, there are more reasons than ever to actively develop relationships.
The problem is that most relationship-building books seem to be written for extroverts. But what about the rest of us?
Well, to arm you for the holiday season and to help you come up with a relationship building strategy for the year ahead I'm excited to introduce you to Devora Zack, author of a recently published book entitled Networking for People Who Hate Networking: A Field Guide for Introverts, the Overwhelmed and the Underconnected.
Learn more about Devora and Only Connect Consulting at http://www.onlyconnectconsulting.com.
Devora has graciously made two copies of her book available for listeners to The People and Projects Podcast. If you are one of our growing number of Premium Subscribers, you are automatically entered into the drawing. If you're not a Premium Subscriber yet, please send me an e-mail at show@peopleandprojectspodcast.com to enter the drawing. I'll pick two winners on December 31, 2010.
And here's a special offer. As I mentioned in the interview I have a keynote entitled The Dirty Little Secret of Business. Despite the provocative title, the dirty little secret of business is that it's all done on relationships. This session gets top ratings when delivered at conferences and company meetings, and it's now available in an e-learning format. Though normally sold for $97 USD, listeners to The People and Projects Podcast can access it for only $49 USD. Go to http://bit.ly/eDirtyLittleSecret before January 15, 2011 and use a coupon code of DIRTY-SECRET. Whether for yourself or as a gift to a friend or co-worker, The Dirty Little Secret of Business can be a powerful way to develop a practical strategy to building relationships.
And here's one last idea for you! I'm going to give this e-learning offering to all my Premium Subscribers for free! If you join my growing number of premium subscribers before the end of December 2010, you'll also get The Dirty Little Secret of Business e-learning for free. Go to http://bit.ly/PremiumSubscribe to join.
Thank you for joining us for this episode of The People and Projects Podcast! Have a great week!
Total Duration: 26:19

Download episode 39