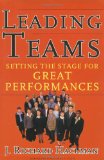 I can easily recall the days before I became a manager.
I started my career as a software developer, which by nature of how software gets created, usually meant work being done in teams. When my team leader or manager would mess up in some way, I would occasionally think, when I finally get to lead a team, I'm going to do things differently! How hard can this be?
Then I became a manager! It was then that I truly realized that it's one thing to talk about leading teams--it's a whole different deal when you have to be the leader and your team members aren't necessarily as motivated as you want them to be, or priorities change, or your senior management seems dim-witted, and you feel overwhelmed.
The truth is that leading teams well is difficult work, often under-estimated by those who haven't had to hold the reins. One of my favorite experts on this topic is Harvard professor J. Richard Hackman. In this cast I look forward to sharing a recent discussion I had with Dr. Hackman based on his book Leading Teams: Setting the Stage for Great Performances. In addition, check out Dr. Hackman's book Senior Leadership Teams: What It Takes to Make Them Great.
A proven way to help engage your team members is to invest in their development. Budgets don't always allow for you to send them away for training but that doesn't mean training has to be put off for a year. Clearly you already know the benefits of podcasts. Some of the best free learning available these days comes from what you're doing right now--listening to casts such as The People and Projects Podcast.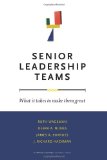 Well, in just a few weeks we are launching Premium Subscriptions for our podcast. You and your teams will still have access to our free episodes. But we are going even further with the Premium Subscriptions to help you develop and engage your teams. Premium subscribers get access to additional content, including materials to help you facilitate a discussion with your team based on the topic of each cast. You'll also get recommendations for additional material to help you go deeper on the subject. Beyond that, Premium Subscribers are automatically entered into drawings for books and other resources. And, as a special bonus, you get free admission to webinars that I lead throughout the year. I'll tell you more in our next podcast episode.
In the meantime, thank you for joining us for this episode of The People and Projects Podcast! Have a great week!
Total Duration: 34:39

Download episode 33