What comes to mind when you think of empathy?
Do you think of someone who is highly sensitive and compassionate--maybe even too much? Or does that description sound more like sympathy, where empathy isn't quite as emotional?
Empathy remains a hot topic in leadership. It's difficult to lead people without some measure of empathy in your approach. Yet I've observed from plenty of executive coaching clients that there's some opportunity to better understand what empathy is--and isn't as we seek to deliver projects and lead teams.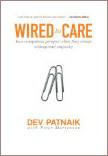 One of the freshest voices on empathy today is Dev Patnaik, CEO of Jump Associates. Dev recently authored the book Wired to Care: How Companies Prosper When They Create Widespread Empathy. I had the opportunity to talk with Dev and look forward to sharing that interview with you in this cast.
Make sure to get a copy of Dev's book Wired to Care. And check out the book's website (wiredtocare.com) and Dev's organization Jump Associates.
Before we wrap this up, I want to give you a heads-up about our new Premium Podcast subscriptions. The best leaders I've had the opportunity to work with had at least two things in common:
they actively invested in their own personal development, and
they intentionally developed the people around them.
We get thousands of downloads of our podcast each month, often from people who share that passion to develop themselves and the people around them. As a Premium Subscriber, you'll be able to take that development to the next level.
Our regular free episodes will continue. Premium subscribers will get exclusive access to additional resources to apply the learning from each podcast episode. You can personally benefit and, if leading a team, you can use the resources to develop those around you.
In addition, Premium subscribers will get exclusive access to additional episodes, automatic entry into freebies (such as books from authors I interview), and free admission to web meetings I periodically conduct. Premium subscriptions will begin in July. To learn more, I invite you to visit our podcast website at http://www.peopleandprojectspodcast.com. Look under the About menu to learn more about Premium Subscriptions.
Thank you for joining us for this episode of the People and Projects Podcast! Have a great week!

Download episode 30